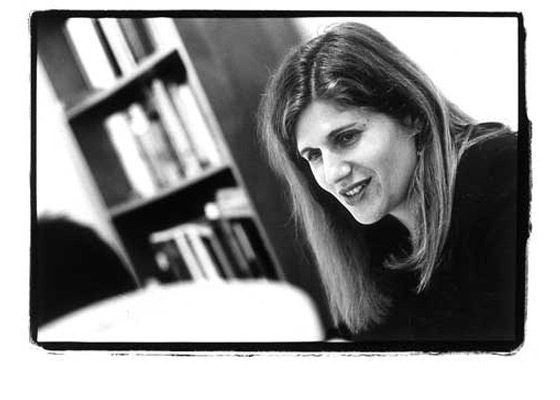 Gitta Salomon brings over 20 years experience as a practicing interaction designer. Her work includes product strategy, definition, and development for consumer and enterprise products. Since founding Swim over 16 years ago, she has successfully translated user-centered research into interfaces for a wide range of products.
Prior to founding Swim, Gitta was Worldwide Director of Interaction Design at IDEO Product Development. While at IDEO, her work included new entertainment systems for Sony, digital imaging directions for Kodak, an interactive showroom for SteelCase and workshops for Times Mirror and NEC. Gitta joined IDEO after more than six years as a Researcher and Team Leader within the Advanced Technology Group at Apple Computer.
Gitta has published extensively in the design and human-computer interface communities, holds several interface design patents, and has presented internationally. She has taught at San Francisco State University and the Royal College of Art in London. She received her Masters degree from the MIT's Media Laboratory. Her undergraduate work was in mathematics at UCLA.
Selected bibliography
Héctor J. Moll-Carrillo, Gitta Salomon, Matthew Marsh, Jane Fulton Suri, and Peter Spreenberg. "Articulating a Metaphor Through User-Centered Design." Proceedings of CHI, 1995 (Denver, Colorado, May 7-11, 1995), ACM, New York, 1995, pp.566-572.
Gitta Salomon, Yin Yin Wong, Tom Erickson, Joost Kemink. "Interfaces for Adaptive Systems: Design of a Personal Wayfinder." American Center for Design Journal. Vol. 8, No. 1, 1994.
Stephanie Houde and Gitta Salomon. "Working Towards Rich and Flexible File Representations." Proceedings of InterCHI 1993 (Amsterdam, The Netherlands, April 24-29, 1993), ACM, New York, 1993, pp. 27-28.
Richard Mander, Gitta Salomon, and Yin Yin Wong. "A 'Pile' Metaphor for Supporting Casual Organization of Information." Proceedings of CHI, 1992 (Monterey, California, May 3-7, 1992), ACM, New York, 1992, pp. 627-634.
Thomas Erickson and Gitta Salomon."Designing a Desktop Information System: Observations and Issues." Proceedings of CHI, 1991 (New Orleans, Louisiana, April 29-May 3, 1991) ACM, New York, 1991, pp. 49-54.
Gitta Salomon. "How the Look Affects the Feel: Visual Design and the Creation of an Information Kiosk." Proceedings of the Human Factors Society 34th Annual Meeting (Orlando, Florida, October 8-12, 1990) Human Factors Society, Santa Monica, Ca., pp. 277-281.
Gitta Salomon, Tim Oren and Kristee Kreitman. "Using Guides to Explore Multimedia Databases." Proceedings of the Twenty-Second Annual Hawaii International Conference on System Science. (Kailua-Kona, Hawaii, Jan 3-6, 1989), IEEE Computer Society Press, vol. 4, pp. 3-11.
© 2013 Swim Interaction Design Studio LLC